Allow me to share with you three stories:
First story is about a chap by the name of Miguel De Cervantes: a son of a surgeon who grew up in 16th Century Spain and when he was eighteen joined the army to fight for his country, got shot and was maimed on the left side so he was paralysed in his left arm yet he won the equivalent of the purple heart.
The king gave him a letter of commendation and on his trip back to Spain, on a boat, pirates took him as a prisoner and Cervantes was made into a slave… for five years because he had this letter from the king and so they thought he was an important figure and therefore held him for ransom while abusing and torturing him until finally his brother managed to raise the necessary funds to get him back home.
While is Spain the only job Cervantes could get was as a tax collector but because he had such a big heart he couldn't bring himself to take taxes from families who were destitute so he didn't do a very good job and the government decided to put him in prison… For twelve years. During his sentence in prison he wrote the book 'Don Quixote' which he finished when he got out and low and behold it became the number one best seller in Europe and was one of the most respected books at the time that even Shakespeare wrote about it.
But even with all the successes the book achieved the publishers screwed Cervantes over so he never saw a penny and still ended up broke.
Second story is about a Mary Johnson: a mother who raised her son the best way a single parent can and on one fateful day her son was taken away from her by a violent act perpetrated by a chap called Oshea who shot her son in the head, at a party, and was sentenced to twenty five years for second degree murder.
Mary was angry and hated Oshea so much that the sentence which he got wasn't enough. To know he was caged like an animal wasn't enough. She wanted more justice, more fairness, she wanted inner peace but over the years her seething couldn't be pacified until one day she decided to go and visit Oshea in jail and confront him. She felt compelled to see if there was a way in which she could forgive her son's killer.
On that day of the visit Mary and Oshea spoke for several hours and throughout their conversation Mary realised that the Oshea she first saw in court twelve years ago was now a grown man who became more human to her. At the end of their meeting Mary was overcome by emotion.
The pair kept meeting regularly after that and when Oshea was released from prison Mary introduced him to her landlord who invited Oshea to move into the building and live next to her as a neighbour… and as a spiritual son.
Last story is about Sean Swarner: who at the age of thirteen was diagnosed with Hodgkin's disease and later with Askin's Sarcoma. He was given just two weeks to live and is believed to be the only person in the world to ever have been diagnosed with both these deadly cancers. In other words he would have been more likely to win the lottery four or five times than to have survived both these cancers.
However he did survive, but the radiation that helped save his life ravaged his body and left him with one fully functioning lung. After defying the odds, Sean decided to fight another battle, but this time a mental one. After twelve years he became the first cancer survivor to reach the summit of Mount Everest and went on to climb the highest mountain on every continent to prove that even cancer patients can do the impossible.
So, what do these three stories have in common? They speak of faith, forgiveness and courage and they teach us lessons about overcoming obstacles and challenges in our life.
But is that it? I beg to differ. So, Let's dig deeper…
My theory is that Most human beings have an inclination to walk through life like a horse with blinkers. Meaning they only see ahead and not whats going on around them. When things happen to them their vision becomes impaired, restricted – they don't see the BIGGER picture.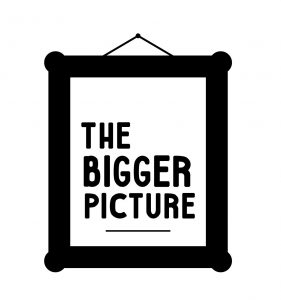 They are so used to seeing the negative in every bad situation that they disregard any other explanation that could come from that experience.
Did Cervantes have to go through imprisonment, torture and abuse to be considered by many to be the greatest Spanish writer and one of the world's pre-eminent novelists? Maybe?
Did Mary have to lose a child in order to understand forgiveness and share her message with other grieving mothers and dedicate her time to form an organisation that uses healing and reconciliation to end violence between families of victims and those who have caused harm? perhaps?
Did Sean Swarner have to lose a lung and be in a coma for a year so that later on in life he could bring other cancer patients with him on his quest to spread courage and inspiration through his foundation, the Cancer climber Association?
Feasibly? The answer resides in us. We have to find ourselves. We have to find the message in our mess. We have to see the BIGGER picture and ask ourselves what can we learn from this experience, what have we missed out on, what can we do to change our outlook at this very moment when disaster strikes.
It's the ability to extricate ourselves from the situation, the predicament, and be an observer rather than the participator.
Of course I don't wish upon any of us to experience what Cervantes, Mary and Sean had to go through but whatever happens to us in life should remind us that something extraordinary is going on here. And that we need to keep our antennas up high, pick up the signals and aim to form the BIGGER picture.
So, whether it's a film project which is in dire straights; a production company who's reneged on its contract; an agent who messes you about. Try and pause for a thought or perhaps even two and aim to expand your horizon to figure out what is the lesson you can learn from this situation.
It is happening for a reason and it's your job to find the beauty in the disharmony.
So, on a final note I'd like you to consider that if ever, in the future, you are faced with a problem, a bad experience, a nasty situation that you're not sure how to handle. When you're thrown that lemon which suggests sourness or difficulty in life, look at that lemon, touch it, feel it, sense it, breath in it's fullness and then do a slight variation of the Shakespearean monologue that we're all familiar with 'to juice or not to juice…' and aim to make a sweet drink from it.
Or, alternatively, like the proverbial phrase that was written more than a century ago said 'when life hands you a lemon, make a… margarita!'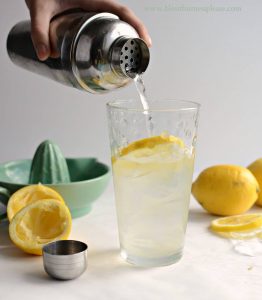 Go forth